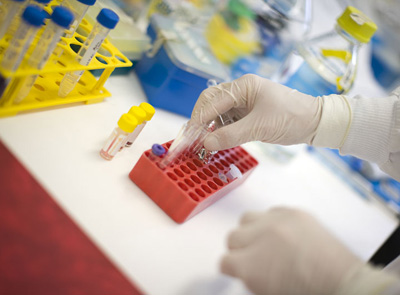 Australian First: Zero Childhood Cancer Program
– Personalised medicine program aims to push childhood cancer survival rates to 100% –
Children's Cancer Institute and Sydney Children's Hospital Network have today announced one of the most exciting childhood cancer research initiatives ever undertaken in Australia to tackle the most serious cases of infant, childhood and adolescent cancer. 'Zero Childhood Cancer' was launched at Children's Cancer Institute and gives hope to children with the highest risk of treatment failure or relapse.
The Program will involve the detailed laboratory analysis of each child's unique cancer cells, to help identify the drugs most likely to kill their specific cancer. Scientists and doctors will then work collaboratively to identify and deliver the most effective treatment plan, specifically tailored to suit each child's individual disease.
Despite the dramatic increase in childhood cancer survival rates over the last sixty years, from virtually 0% to 80%, nearly three Australian children and adolescents still die each week of cancer. Of the 950 children diagnosed with cancer each year in Australia, 150 are either diagnosed with cancer types that have less than a 30% survival rate, or suffer relapse and then have less than a 30% chance of cure. It is these children – including those suffering from the most aggressive forms of childhood brain tumours, sarcomas, infant leukaemias and neuroblastomas – who will benefit from the Zero Childhood Cancer Program.
"This is a very exciting initiative that will revolutionise the way in which treatment decisions about childhood cancer will be made," said Children's Cancer Institute's Executive Director Professor Michelle Haber AM.
Children's Cancer Institute and The Sydney Children's Hospitals Network are jointly recognised as international leaders in the field. In establishing this national child cancer personalised medicine program, they are collaborating with major research centres in the United States and Europe.
It is anticipated that total funding required for the Zero Childhood Cancer Program over the next six years will be more than $40 million. Initial funding has been received from the Federal government-funded Cancer Therapeutics CRC (CTx) and also capital funding from the NSW state government. In addition, support has been committed by several funding partners including Australian Cancer Research Foundation, Cure Brain Cancer Foundation, The Kids Cancer Project and The University of New South Wales, Australia.
The Ponting Foundation supported the forerunner of this project – the 'Tailored Therapy Project' – in 2012 and is thrilled that the hard work and dedication of the teams at the Children's Cancer Institute and The Sydney Children's Hospitals Network will continue under this new initiative.